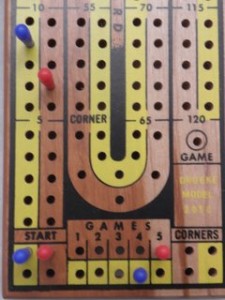 Drueke 2050 – A classic continuous play board manufactured by WM. F. DRUEKE AND SONS, INC. – 601 Third St., N.W. – Grand Rapids Michigan
Here's how the original ad for the Drueke 2050 reads-
Hardwood board, size 13 1/4″ x 5 1/2″ x 3/4″. This newly designed Cribbage Board is a junior to our cribbagemaster. It is a once around board designed for tow, four or six players, two lanes one color design, and has all the added features of the Cribbagemaster.  Complete with pegs. Individually boxed. $2.50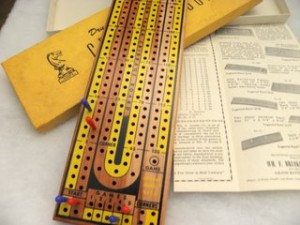 Drueke has been making fine hardwood cribbage boards and chess sets for decades. In 1940 they moved into the 601 Third Street address. In January 1987, the Drueke family sold the business to a group of young businessmen who immediately renovated the factory.  In 1992, the Drueke division was resold to the Carrom Co. of Ludington which retained the Drueke name and reputation.
Drueke 817 The Current Day Version of The Classic Drueke 2050 
Today's Drueke cribbage boards are made with the same care as they were 50 years ago. The current day version of the 2050, the Drueke 817, is pictured in the photo to the left. With a few minor differences it is virtually the same board that was manufactured 5 decades ago in Grand Rapids, Michigan.
Classic Style Drueke 817 available at Amazon