Vintage H. Baron Company Bakelite Cribbage Board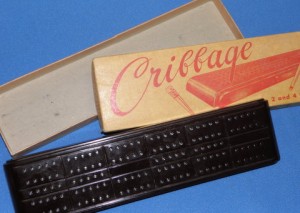 One of the favorites in my collection is this very simple vintage No.17 dual track board manufactured from a bakelite material, and produced by the H. Baron Co. Board Measures approximately 10-7/8″ long x 2-1/2″ wide and 5/8″ thick. Still  working on a production date but presumed to be 1950's-60's . According to an article at American Cribbage Congress the equipment and manufacturing rights of H. Baron Company was purchased by Crisloid, Inc. in "1972".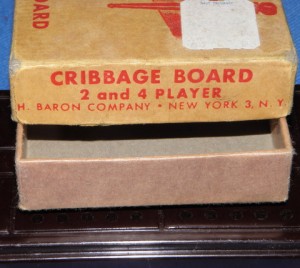 You can search for vintage cribbage boards
at Amazon.com
Vintage bakelite cribbage boards and other bakelite items are growing in popularity as collectibles. This very simple 2 track crib board manufactured by the H. Baron Company of New York circa 1950-60's. The label on the box shows it was purchased at the Navy Exchange, for .85 cents. I would expect in todays market "2011" to pay $15-$25 at an antique store for a little beauty like this.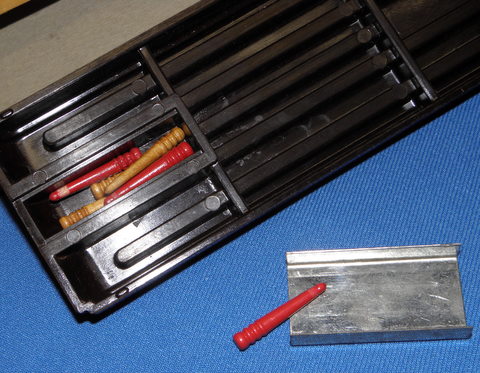 Two ways to identify a plastic versus Bakelite cribbage boards are:
Weight- Bakelite will typically have a heavier feel to it then plastic. If the item
you are holding seems to b a little heavier than you would expect, there is a good chance you are holding bakelite.
Odor- Bakelite has a very distinct odor, apparently the odor comes from an emission of carbolic acid within the bakelite. You can warm the item under hot water, heat it with a blow drier or sometimes just rub your finger across it vigoursly. If it gives off a more noticabley warm and musty smell, similar to the smell emitted from the back of a television set, there is a good chance your item is bakelite. Another Article Describes the smell as similar to the smell of burnt milk or formaldehyde.
You can find other
Vintage Bakelite Items at Amazon.com