6 Special Edition Decks – Come In A Unique Collector's Wooden Case
Is the cribbage player in your life as particular about the playing cards they use, as they are with the board they play on?
This special edition case, and cards is being offered by Ellusionist Playing Card Company. A "Made In America Manufacturer" of playing cards.
The prohibition styled wooden collectors storage case which covets 6 decks of the Ellusionistsbest liquor inspired card designs would make a great gift for the serious card player in your family, or anyone who appreciates playing card art.
Designs Included In The Gift Case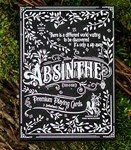 Absinthe – These cards embody the allure of the emerald drink, the hallucinogenic haze, sugar crystals in the night – even the Ace of Spades is modeled after the filigree of the absinthe spoon.
Disparos – The block printing design and false-edge border gives these cards a rustic feel. With embossed sugar skulls, duelling pistols and custom everything, these are shots of Tequila you won't regret in the morning.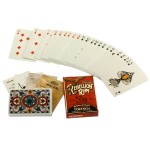 Rebellion Rum – Tropical hibiscus flowers adorn the back of the cards while the faces maintain the nautical theme. The inside of the tuck is printed with a maritime map, while the Ace of Spades takes the form of a Parrot and its raised wings. Like all the Prohibition decks, these are printed on the finest stock USPCC has available.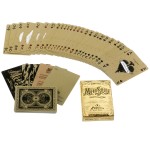 Moonshine – No Prohibition set would be complete without this sweet, illegal corn liquor. The court cards feature some of history's most famous moonshiners, the box has some of the cleanest embossed printing we've ever seen and it's all rounded out by a custom seal.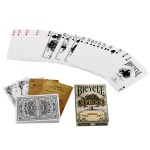 52 Proof – The giant oak tree on the front of the tuck box and seal is a symbol of the aging process for fine bourbon. From the Ace of Spades right around to the back design, this oak motif continues throughout the cards, whereas the Gold Foil stamping on the utside of the tuck and luxurious red satin-finished interior makes 52Proof one of the most gorgeous boxes we've ever produced.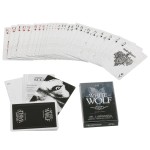 White Wolf – Lead designer Mike Clarke took a different angle with this deck, giving it a modern, minimalist twist. Half-shaded pips, single-line drawing courts and a speckled paper overprint give a luxury feel to an otherwise austere composition. Although the brand WhiteWolf was created just for these cards, we believe that its magic should be bottled.