Traditional style and size, solid billet aluminum, cribbage game board by Game Depot  
Polished smooth and masterfully crafted with the use of a high tech CNC machine. Made from a single block of top grade aluminum, with engraved numbers and marking lines. This heavy and extra sturdy cribbage board will grace your family and tournament cribbage events for years to come.
One of the best cribbage board deals
Other solid aluminum cribbage boards cost up to 50% more and offer much less in the way of quality and craftsmanship. This is a highly rated game board with outstanding reviews from everyone that has purchased it.
A top selection
This solid aluminum cribbage board is a top selection contender for the "2016" cribbage board season, and as long as it is being offered at the current price, CribbageBoardsFor Sale.com is giving it a double thumbs up. Whether you play a little or a lot this stylish board will be an awesome addition to any cribbage board collection, and it looks very cool sitting atop an executive office desk, or accessorizing a wet bar.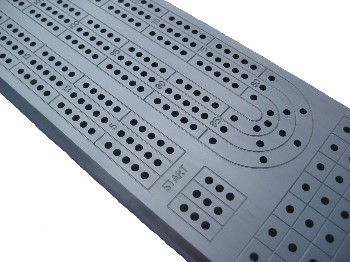 Board Specifications:
Dimensions –  ¾" x 4" x 15"
Material – Billet Aluminum
Weight – About 4 pounds
Bottom – Aluminum with scratch deterrent felt pads
Pegs – 3 black, 3 silver, 3 gold.
Happy Reviews Via Amazon –
5.0 out of 5 starsBullet-proof
By Eric Cartman
Verified Purchase
Nice cribbage board. Very classy and perfectly machined. Can alternately be used as a weapon if necessitated. Thing is heavy, comes with nice little felt feet to keep it from scratching what you set it on. Good stuff, highly recommended for the 100%, OCD set who can't play on wooden boards with poorly cut holes and pegs that don't fit.
5.0 out of 5 starsIndestuctable
By T. Hawthorne
Verified Purchase
This is solid and heavy. Not heavy as in I can't pick it up or handle it easily, but it is not something you will forget you are holding. I wish they had cut a storage hole for the pegs but I glued a small baggy to the bottom out of sight. We do use this board some. Since we have dozens of boards we are choosy of the once we give a place of use.
So Glad I Bought It
By I.M. Shai
Verified Purchase
This is an awesome board. It is solid metal and very heavy, each of the holes is smooth and evenly spaced, the lines and numbers are perfect. There are no wavy lines, no partial holes, no scratches or dents. And the pegs, also metal, fit into each hole and are easy to move around on the board. There are large, thick felt pads on the bottom four corners, so I don't have to worry about moving this around on my table. It is a very smart looking board and we've had a lot of compliments on it. We play cribbage daily, and this board will never wear out.
See all the reviews and get more info on the Billet Aluminum Cribbage Board.