Free Cribbage Board Template: Disposable downloadable cribbage board template.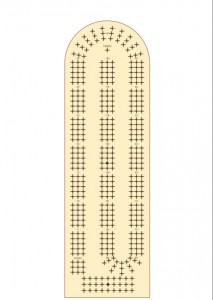 Ready to make your own cribbage board? If so, you'll be glad to hear you can find free cribbage board plans online. Fill in the simple opt-in form and you'll be emailed a link to instantly download the template for easier drilling of your own holes.
A cribbage board is a great first time wood making project that does not need elaborate plans. With the right tools any and this easy to print template you can turn virtually any piece of wood, plywood, plexi-glass or metal into a cribbage board wood working project, without the need for detailed instructions.
A link to a downloadable printable free cribbage board template which can be used for your own future designs of cribbage boards will be sent to you by simply filling out the opt-in form on the right hand side of this post.
Rockler Acrylic Cribbage Board Template
Rockler JIG IT Game-Drilling System for Track Style Cribbage
Continuous Track Acrylic Cribbage Board Template by Rockler; "Well known for quality wood working tools and products."
Whether it's for yourself or a gift for one of  your cribbage or woodworking friends. This continuous track cribbage board template by Rockler follows a traditional pattern which has been used by many custom cribbage board designers and makers.
Check this link for availability, pricing and shipping info: Rockler JIG IT Game-Drilling System for Track Style Cribbage
Not Ready To Drill your Own Cribbage Board? – Here's a great little solid wood Made In America starter board for you-
Continuous 3 Track Natural Solid Wood Cribbage Board with Easy Grip Pegs, Cards and Storage Area – 12 Inch Solid Walnut Wood Board
3 Track Continuous Layout Cribbage Board
Solid Wood – 3 1/2″ x 12″ x 1 1/2″
North American Eagle Laser Engraving
Storage Area for 1 Deck of Cards and Cribbage Pegs
Includes Cards & Easy Grip Pegs, 3 Brass and 3 Silver
Available at Amazon Cribbage Boards
Additional Cribbage Boards For Sale Links:
Billet Aluminum Cribbage Board
Drueke 814 Cribbage Board
Drueke 815 Cribbage Board
Number 29 Cribbage Board
Replacement Cribbage Board Pegs