Another Luxury Cribbage Board From House of Cribbage
Cribbage Boards For Sale is so excited that The House Of Cribbage has stepped up the game. In an industry where blocky, hand -made, or simply funky  board designs has dominated for so many years The House Of Cribbage  has produced an entire line of cribbage boards that blend the past with the now.
This 4-track, continuous play board is a perfect example of the wonderful designs being offered.  Wait for the ooh's and the ah's when this is unwrapped at your next gift giving event. Grandma, hubby, or uncle John will cherish every game of cribbage they get to play with you, even more.
Specifications:
Type: Continuous play to 120 points

4 Tracks (up to 4 players)

Made of Bloodwood with White Maple inlays

Type of Pegs: 5 Gold, 5 Silver, 5 Copper & 5 Black Plated Metal Pegs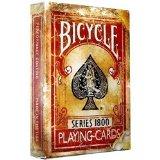 *Playing cards are not included – You can add an extra touch to your gift with a set of these awesome Bicycle 1800 Vintage Playing Cards by Ellusionist.