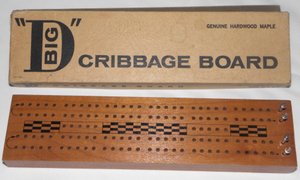 Here's a nice example of  the classic Big "D" Cribbage Board. A board manufactured by the Are-Jay Game Company.
This board was found in it's very good condition original box with what appear to be newer replacement pegs. There was no instruction sheet included so any attempt to give the the actual year of manufacture would only be speculation.
The game board is 2.5″ x 9.25″ made of hardwood maple. The Are-Jay company manufactured this cribbage board and several other styles in a Cleveland, Ohio facility between the years of 1940 and 1973.
Estimated Value of this Cribbage board $20-25.00.