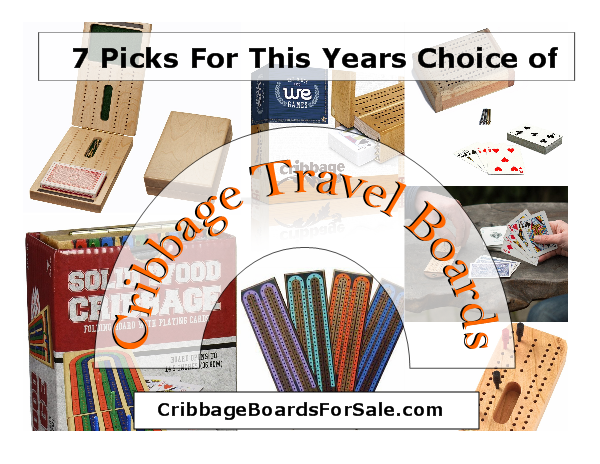 The game of cribbage is easy to teach, and a wonderful way to interact with both your family and any new friends you may make while on your trip. It's an ideal way to pass the time if you get stranded at the airport, or are held up with a mechanical difficulty. It is also a perfect way to keep the kids occupied when they're not getting a mobile signal.
A cribbage board doesn't need batteries, a Wi-Fi signal, or a cell tower to operate properly. It can be carried in a back pack, tucked into a carry on, there are even boards small enough to carry in your pocket.  The game of cribbage is an extremely user friendly game.
To prepare you for your upcoming trip cribbageboards.com has compiled a list of some of the most popular travel cribbage boards available. – Wishing you and yours a safe and memorable, cribbage filled holiday.
The artisans at Walnut Studiolo are known for their fine leather accessories and have recently been making an impact on the cribbage board scene. Their pocket size cribbage board has been one of the most popular cribbage boards this season. It's truly a piece of art you can carry in your pocket.
The Cardinal Solid Wood Folding Cribbage Board was chosen for its affordability and practicality. It is a 3 track continuous play to 121 style cribbage board. It comes complete with cards and pegs. It has everything you need to get the job done, and the price is so low that it's almost disposal. – Perfect for a long trip.
Not exactly a travel board, however the 3 1/4″ x 12″ x 3/4″ foot print doesn't take up much room, and the pegs are hidden inside behind a sliding metal tab. Still a great take along board.
Drueke is one of Americas great cribbage board manufacturers. You can still find many of their classic mid-century boards at auctions, sales, and in grandmas closet. This favorite of the cribbage board collecting world has taken the pattern from their classic Drueke 2050 cribbage board and given it a new look with a multitude of contemporary color options.
Minimalist 2 – player, score to 61, folding cribbage board comes with cards, pegs, throwing dice, and a carry bag, and it's affordable. All in all this cribbage board set is a pretty good deal and it too falls into the category of almost disposable.
Made in the U.S.A. – This smart looking design in two player to 61 scoring lets you keep the cards and the scoring pegs tucked inside the board. Always a plus when traveling, to have the cards inside the board. This board is definitely worth consideration, and if you are a Made in America advocate, then this is probably the choice for you.
It's not that often you something completely different in cribbage board design, but this Mini travel Cribbage Set by WE Games has done just that. Self contained the playing cards slide up inside along with the pegs. The offset swivel closure is what sets this board apart from the others. The WE board may be a consideration for the cribbage board collector, vacation or not.
Our last selection for the category of 7 Travel Cribbage Boards is this solid Cherry wood – Made in U.S.A. folding cribbage board with pegs. The pegs tuck inside this lacquer finished board and the metal closure keeps it secured. Another great Made In America choice.
Holiday vacations are knocking at our door, and it is time to hit the road. While you are always going to be worried that you should have packed just one more thing, don't forget the cribbage board. Cribbage is an ideal vacation pastime no matter where you are planning to go, or where you end up.